Emblisi Beach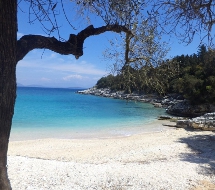 Emblisi is probably the most cosmopolitan beach in northern Cephalonia, since it is very beautiful and is only 1,5Km away from Fiscardo. It is pebble beach, well protected from the winds and it is surrounded by aged pine and olive trees providing natural shade to swimmers.
Foki Beach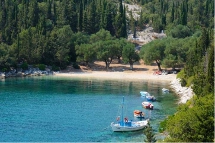 Following the seaside main road of Fiscardo and after passing two beautiful small bays we arrive at one of the most beautiful beaches of Cephalonia – Foki beach. It is a gorgeous long bay with pine and olive trees almost reaching the water. Following the small coastal path to the east side, you will find a beautiful cave inside which there is a very small "private sandy beach".
Alaties Beach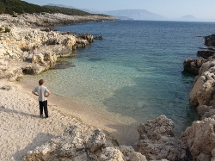 Alaties is a remote cove on the western coast. Its name means "saltworks", because in the past sea salt was hand-harvested from the hollows of the rocks. The larger hollows were once used for healing baths. This perhaps explains the stepped landscaping of the terrain and the presence of pine trees. The beach is surrounded by rocks, making it a good spot for diving and snorkeling. There is an Italian restaurant nearby where you can enjoy lunch or even better, a memorable night under the stars.
Dafnoufi Beach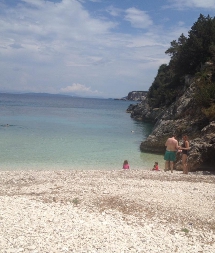 Dafnoudi is a hidden beach at the northernmost tip of Cephalonia. Shade is limited when the sun is high so remember to take a beach umbrella with you. The beach is pebbly, the waters are calm and the colors vary from blue to green. There is even a small and very cool cave at the water's edge. Our reception staff can give you tips to find this small hidden gem.
Kimilia Beach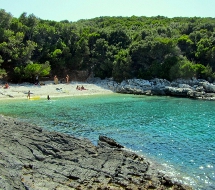 Kimilia is a virgin beach with crystal waters and cypresses. It is consider as one of the most beautiful small beaches of the island.
Myrtos Beach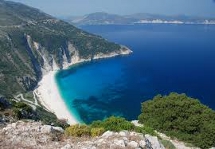 18 Km south-west of Fiscardo lies the island's landmark: Myrtos beach! It has consistently been voted as one of the world's top beaches and year after year it is awarded with "blue flag" from the Greek National Tourism Organization. The contrasts between the white pebbles, the sea's innumerable shades of blue under the shifting sunlight and the dark green of the trees make this place magical. The view of the beach from the road above is breathtaking. And don't forget: the sunset views from Myrtos is a truly unforgettable experience. The beach offers a full-range of facilities for day-long relaxation and fun.
Zavalata Beach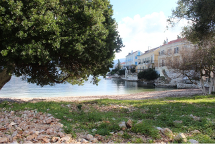 Zavalata beach is a stunning small pebbly bay with crystal waters and it is only 300m away from Fiscardonna Luxury Suites!