There's nothing that speaks more favorably or appeals to OUR customers more than a beautifully kept and clean room. Keeping our hotel in tip-top shape not only includes caring for the rooms, but the common rooms as well. Cleaning and properly sanitizing guest rooms and guest areas ensures guests and employees remain in the hotel.
Guest Rooms
Our guests expect their rooms to be clean, neat and ready for them when they arrive. It's a proven fact a hotel guest will make a decision about the cleanliness of their room—and the competence of the hotel cleaning service–within the first thirty seconds after they enter the room.
To make sure guests rooms are in the best condition possible, we start by dusting the room with a microfiber cloth to catch as much of the dust and dirt as possible. Dust all furniture, baseboards, doors, and windows sills. Polish the furniture with a commercial polish, making sure to remove any spots or marks left by the previous guests. Strip the bedding, replace with clean sheets and remake the bed. Vacuum the carpets. Remove the trash and disinfect the television remotes.
Guest Bathroom
During cleaning, we spray disinfectant across all bathroom surfaces and allow to remain a minimum of five minutes to disinfect the room. Wipe down the walls and counters. Use disinfectant and a scrub brush to clean the outside of the toilet—including where the toilets meets the floor—and use a toilet bowl cleaner and toilet brush to scrub the inside. Scrub the tub, tub walls and fixtures with a disinfectant. Clean the mirror with a vinegar solution to prevent streaking. Sweep, and then mop the floor with a disinfectant.
Disinfection of Beds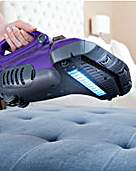 Hotel guests spend about a third of their stay in bed but standard hotel cleaning practices, hardly spend any time cleaning them. Beds are a breeding ground for dust mites and bed bugs, which can leave harmful allergens and irritate our skin, leaving us feeling itchy, tired and congested in the morning. But thanks to a special designed UV Ultra Vac, our guests able to rest easy again. This innovative bed cleaner that Fiscardonna uses, has an inbuilt UV light, which generates special UV rays which are proven to damage dust mite and bed bug DNA and reduce infestations by more than 90%. Once dead, they are easily sucked-up, along with their waste, by the powerful vacuum. It also has a built-in HEPA filter, which removes 99.9% of allergens from the air, so you can rest easy. The UV light kills 99.9% of bacteria and viruses, including salmonella, E. Coli and Staphylococcus.
Hotels are a Microbes Paradise!
If you flick on the light switch or use the remote control to turn on the TV, you've just touched two of the dirtiest spots in your room, according to a new study.
The germiest surfaces: bathroom sinks and floors, light switches and TV remote controls. The TV remotes had an average of 67.6 colony-forming units of bacteria, or CFU, per cubic centimeter squared. The main light switches in the rooms had an even higher average of 112.7 CFU; they also had the highest levels of fecal bacteria, with an average of 111.1 CFU. Telephone keypads were cleaner, but still contaminated with 20.2 CFU of aerobic bacteria.
According to Hygienic standards a recommended safe upper limit is 5 CFU per cubic centimeter squared.